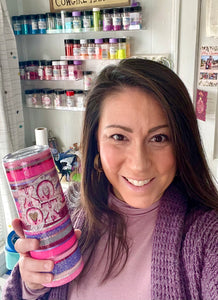 Meet the maker
Hello there! I'm Carolina.
Let me introduce myself and give you a chance to get to know the face behind the creations.

I'm Carolina, I'm a Tumbler Maker and Artist, and I am an Art Teacher. I love to create, and I'm lucky enough to get to do it all day long.

I live in NJ and grew up here most of my life, but I was born in Peru and came here at the age of 2. Si, hablo español de lo mas bien. Puedo trabajar y educar en español si es necesario.

I've been making tumblers for a little over 1-1/2 yrs, and I truly love creating them. All the glittery and bright creations are my favorite, but I will make non glitter tumblers too if that's your preference. Currently my custom orders are closed, but sign up for emails to be notified when I reopen. When I do, I work on a 3 to 4 week turn around time. My favorite thing is to create a piece of artwork that you can use and appreciate on a daily basis. Let me make something for you!

Thanks for reading! Hope to hear from you soon! Please feel free to reach out with any questions regarding orders you may have.